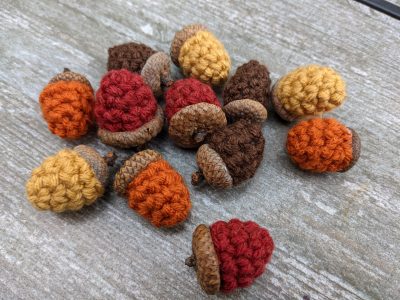 It's September and that means it's the non-official official start of fall for me as well as many other fall lovers out there! Fall is my absolute favorite time of the year. I love everything from fall festivals to pumpkin spice to Halloween and pumpkin farms galore! The beautiful color changing leaves and cooler weather are also part of the amazing package deal that is this lovely season. I could spend hours in any craft store just smelling all the different fall scented candles and eyeing up newly added seasonal decor. As much as I say I won't buy something, I always do because there are so many cute pieces that will add that perfect fall flare to my home…
This year I decided to be a bit more creative and avoid too many outings, as I'm home most of the time with my brand new baby. Obviously since I'm a crocheter I wanted to make something out of yarn, but what? I found myself inspired by my husband's love for oak trees and acorns. I recall many early Octobers when he would obsessively seek out the perfect oak tree for us to gather acorns from in hopes of growing our very own white oak tree. A few years ago we actually did grow quite a few seedlings and upon moving into our new home, planted the perfect oak tree in our yard which has done quite nicely with growing this past year! And so obviously with his love for oak trees I thought that making something out of actual real acorns would be fantastic and a great touch of fall in our home. These crocheted acorns are perfect for center pieces or accents and work up so fast you wouldn't believe it!
Materials: 
-3.5mm crochet hook
-worsted weight yarn in multiple colors
-acorn caps (the bigger caps you can find, the better… I found 1 inch+ sizes to be the best for this project)
–polyfil stuffing
-hot glue gun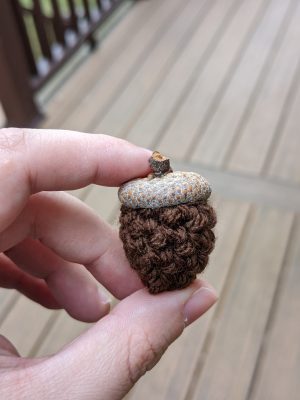 For the acorn caps you can easily find these under any oak tree during September-October. The bigger caps you find, the better!
3sc in a magic circle
Round 1: 2sc in each st around (6)
Round 2: *2sc in 1st st, sc in the next st*; repeat around (9)
Rounds 3 and 4: sc in each st around (9)
Fasten off and weave in the ends. Stuff with a small amount of polyfil stuffing. 
Now just place a bit of hot glue on the inside of the cap and carefully line up your acorn piece inside the cap and press it into the glue to seal it. It's just as easy at that!
What I love about these acorns is the fact that you can make them any color you want and create a nice pop of fall to any room whether it be placed around a centerpiece or in a cute little jar/vase. The possibilities are endless!
I hope you enjoy and have a great fall! Happy crocheting!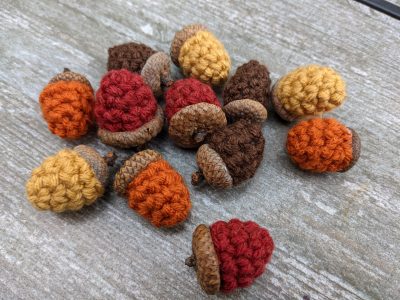 All designs & pictures are copyrighted by To Craft A Home 2021. Pattern is for personal use only and can't be resold, republished, or redistributed in any way. You may sell the finished project if you so desire, but please give credit and link to my website or my Etsy
Find more of my patterns on Ravelry