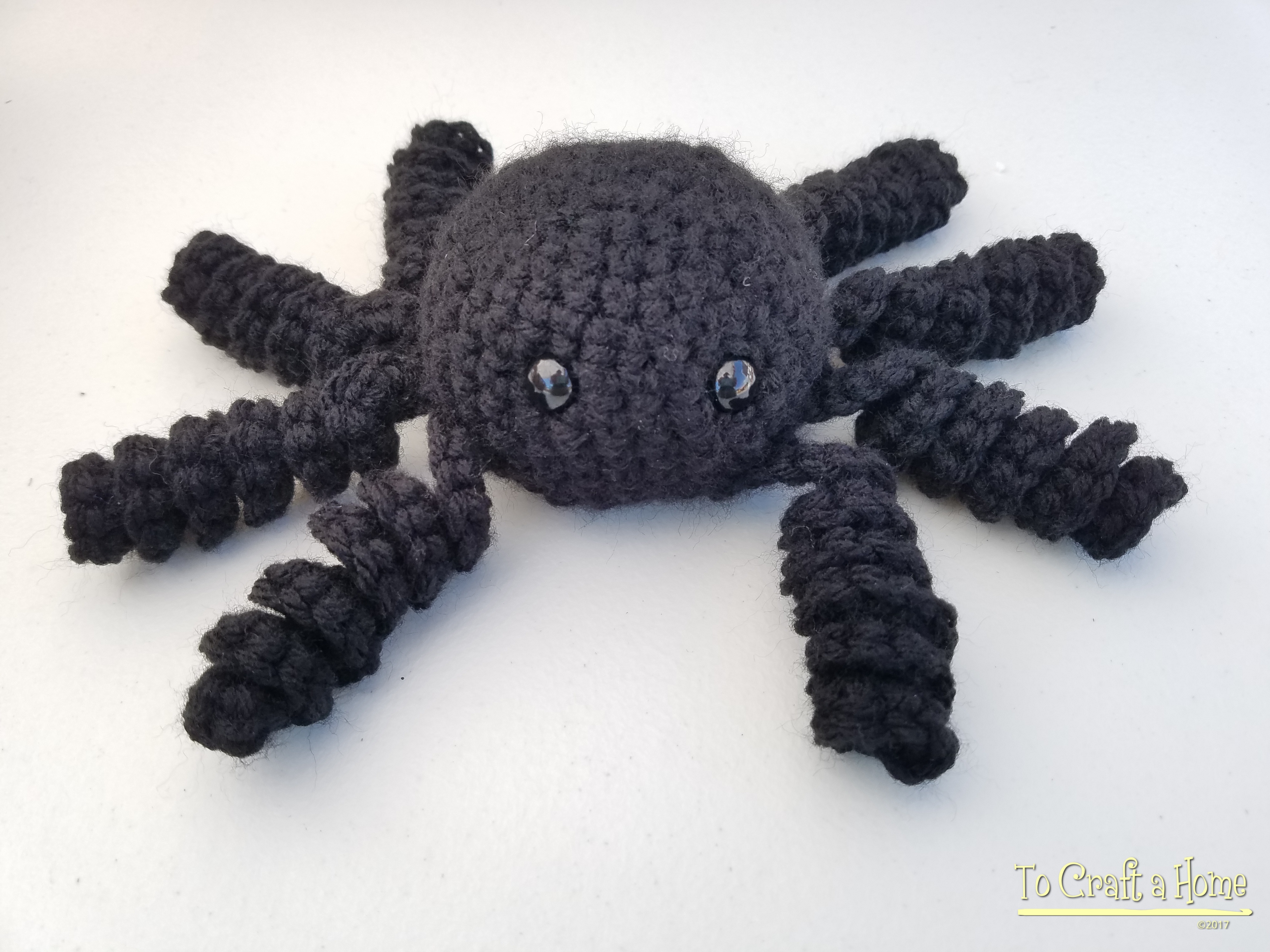 It's finally October!!! Yay for the first day! And because it's October it's officially HALLOWEEN MONTH!!!! Can you tell Halloween is big in this household? Seriously, for me, Halloween officially begins September 1st. Heck, I'm creating little Halloween projects in July! The main thing here though is to note that my family and I absolutely love and adore all things Halloween. My kiddos have especially taken on this extreme excitement over the best time of the year. And because of this Mr. Crawly the crochet spider was born. 
Seriously, how cute is this guy?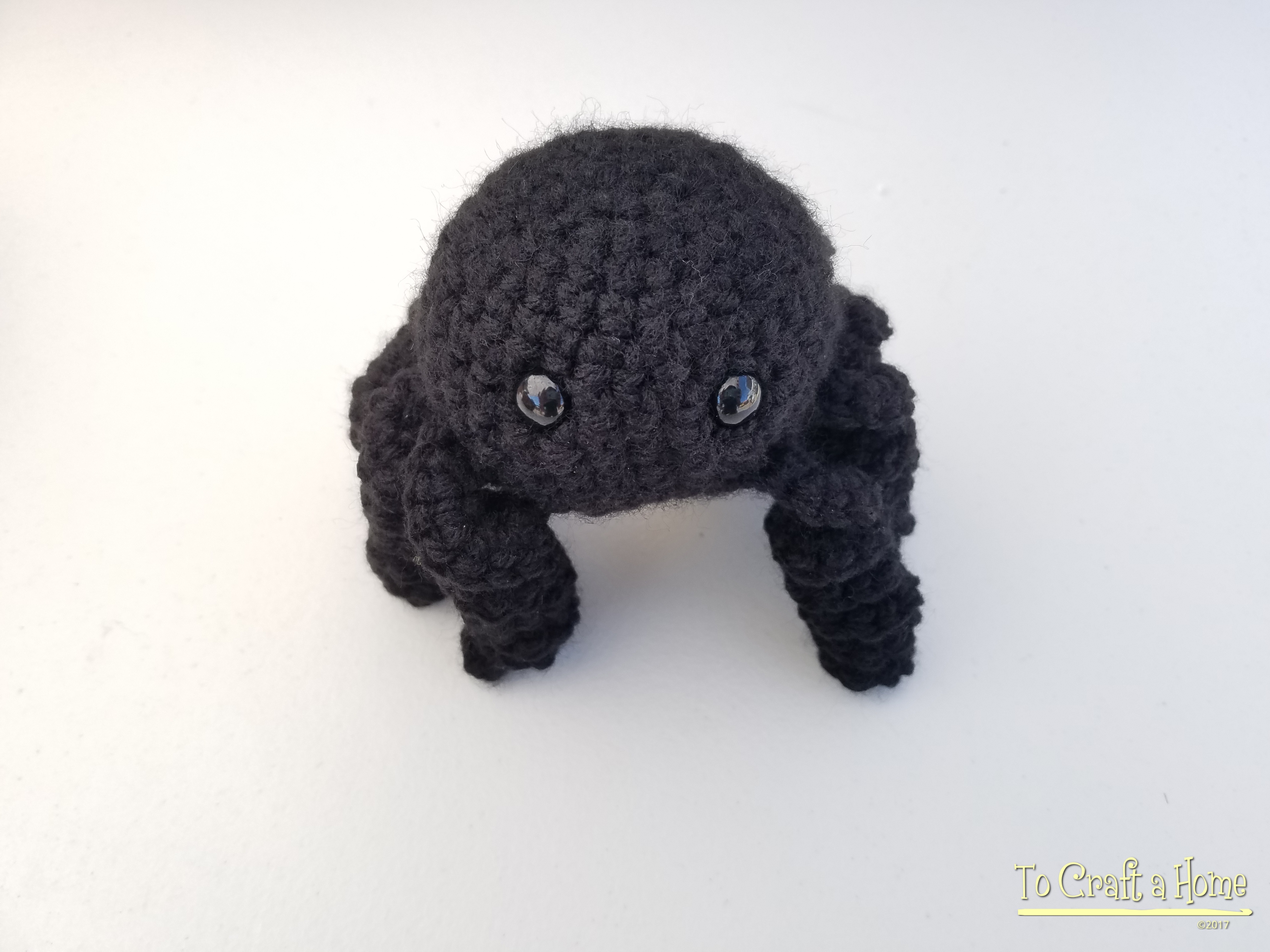 The idea came one afternoon in July during our long, hot farmers market days. The temperature was reaching 90 degrees so the customers were quite sparse that day. To pass the time I was doing what I always do. Crochet. My youngest daughter, Iris, was out and about helping to organize toys. I was itching to make up a Halloween project for the upcoming year so I decided to bounce ideas off of one half of the creativity behind To Craft A home (the other half being my oldest daughter). It was then that Iris suggested I make a spider. Not just any spider though. A extra cute, adorable, cuddly spider. I whipped this guy up within the hour and soon enough Iris approved of him by hugging him close and giggling in delight. The best part? She named him. Mr. Crawly. How perfect is that?
Since then Mr. Crawly has gone on numerous adventures within her bedroom walls, the backyard, and all our long car rides. He makes webs out of excess yarn, crawls up everybody's arms and legs, and is the mastermind behind all of her little pranks! Because my daughter has had such a blast playing with this little guy I've decided to offer up his pattern for free so that everyone else can enjoy him just as much! He's a great addition for any Halloween decor or gift projects for this upcoming Halloween too!
Materials:
4.00mm crochet hook

Black worsted weight yarn

9mm black safety eyes

Polyfill stuffing

embroidery needle
This spider will be worked all in one piece.
6 sc in a magic circle.
Round 1: inc in each st around (12)
Round 2: *sc in 1st st, inc in the next; repeat around (18)
Round 3: sc in 1st 2 sts, inc in the next; repeat around (24)
Round 4: sc in 1st 3 sts, inc in the next; repeat around (30)
Round 5: inc in 1st st, sc in the next 28 sts, inc in the last st (32)
Rounds 5-6: sc in each st around (32)
Now you will begin to form the legs. They will continue to be worked in the round with ch sts forming the legs.
Round 7: sc in 1st 2 sts. Now the legs will form:
Ch 20. In 2nd ch from hook 3sc. Work your way down the ch st back to the body of the spider inserting 3sc in each ch st. This will be your first leg and it will curl as you work your way back down.
Sc in the next 2 sts on body. Ch 20 and repeat the leg step 3 more times to form 4 legs on one side of the spider body.
Continue the round with a sc in the next 8 sts. Ch 20 and begin to form 4 more legs on the opposite side of the spider. (Ch 20, 3sc in each ch down, sc in next 2 st on body, repeat). Finish the round with a sc in the final 8 sts that remain.
Here you will want to insert your safety eyes between the sets of legs between rounds 6-7.
Round 8: dec in 1st 2 sts, sc in next 28 sts, dec in final 2 sts (30)
Round 9: sc in 1st 3 sts, dec in the next; repeat around (24)
Round 10: sc in 1st 2 sts, dec in the next; repeat around (18)
Stuff with polyfill stuffing at this point.
Round 11: sc in 1st st, dec in the next; repeat around (12)
Round 12: dec around (6)
Round 13: dec around until sealed. Fasten off and weave in ends.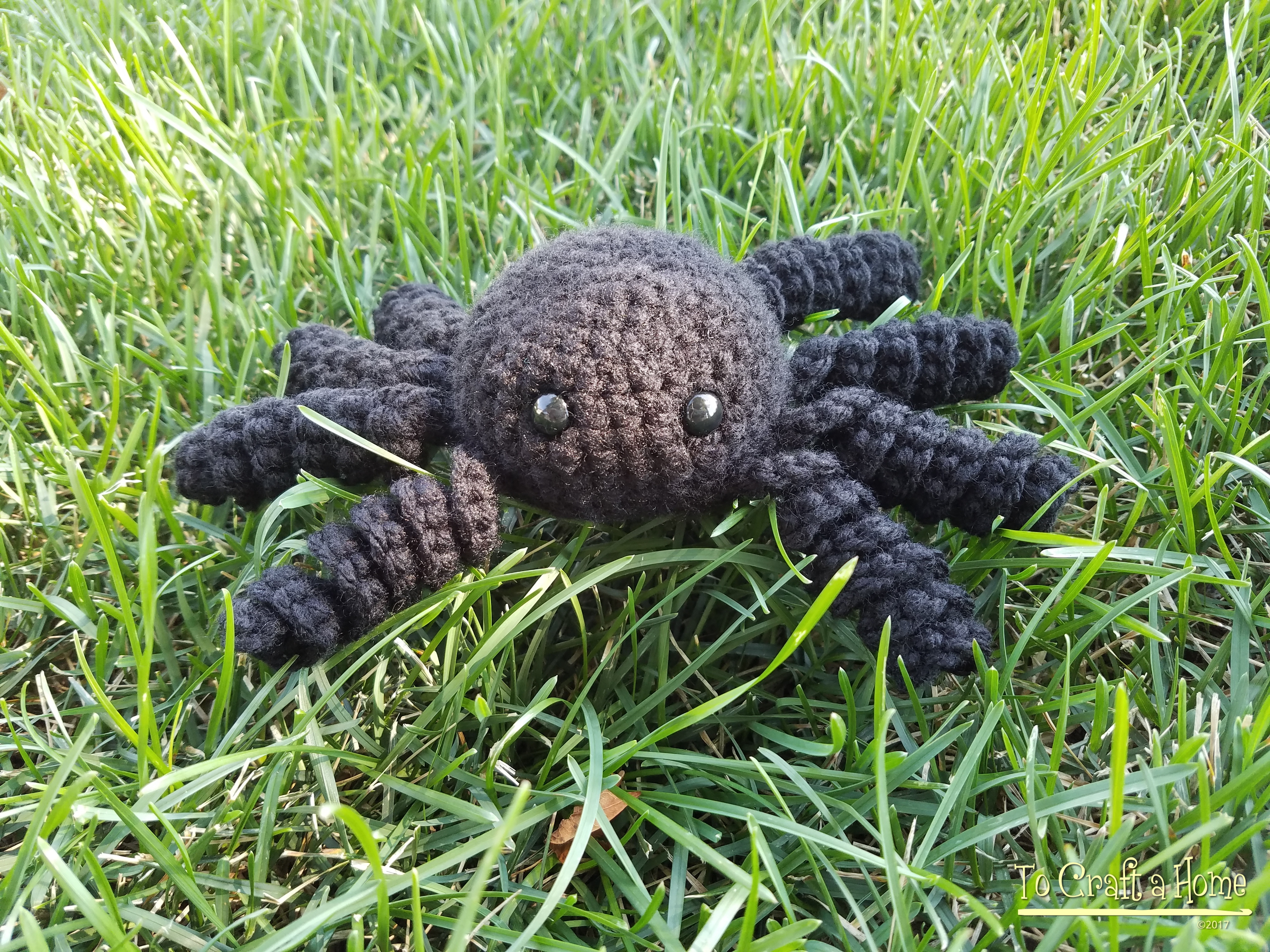 And how easy was that!? A cute little spider friend right in time for Halloween! It can't get any better than that!
All designs & pictures are copyrighted by To Craft A Home 2017. Pattern is for personal use only and can't be resold, republished, or redistributed in any way. You may sell the finished project if you so desire, but please give credit and link to my websitewww.tocraftahome.com or my etsy www.tocraftahome.etsy.com