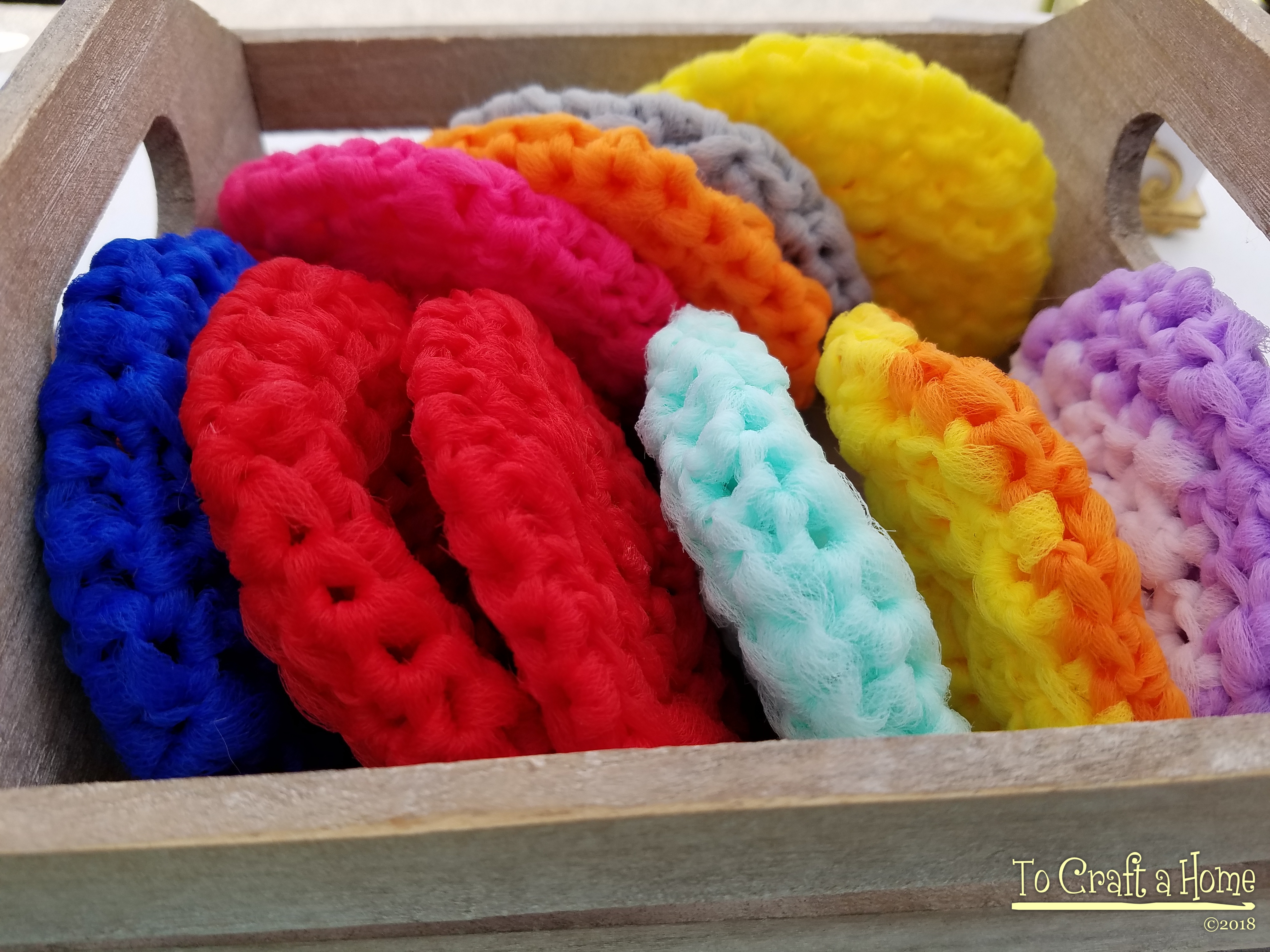 Dish scrubbies. Such a simple cleaning item, but oh so underrated. It was my first year working at our local farmer's market that I discovered not only the convenience of being able to create my own household cleaning item, but also how absolutely AWESOME the crochet dish scrubber is. Seriously, crochet dish scrubbies are AMAZING. Not only is it something that works up insanely quickly, but it is LONG-LASTING in your kitchen, EFFECTIVE at cleaning, and totally capable of being RE-USED. If it starts to smell funky, just toss it in the dishwasher/washing machine and it's ready to go, BRAND NEW, once again! I could go on and on about these, but how about I just pass on the knowledge someone else gave to me instead?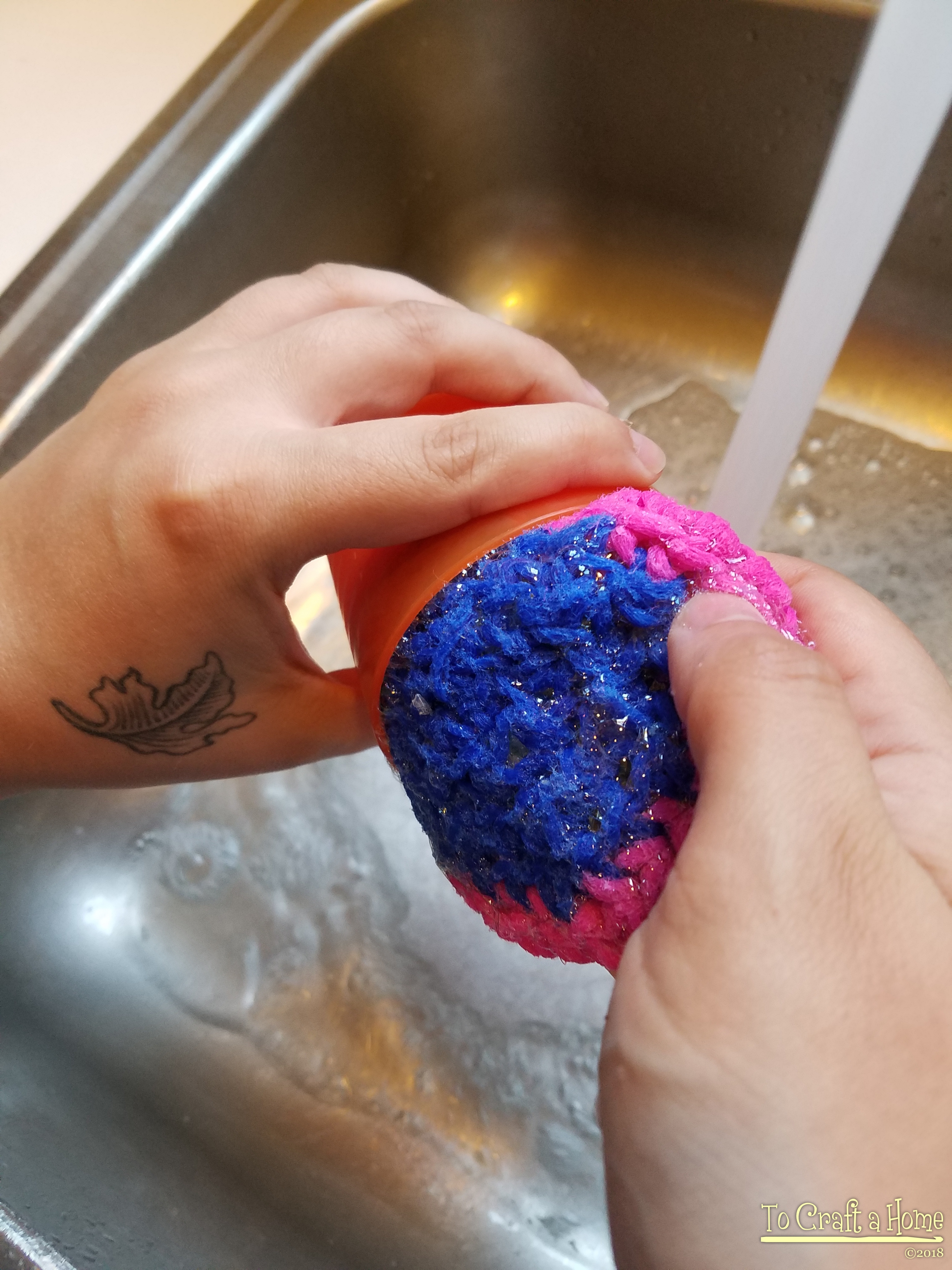 That first farmer's market year I didn't exactly know what type of items my customers would be looking for. I had out the basics. Toys for kids, catnip toys for cat owners, hats, and a dish towel here and there. Mostly though, I found it was best to listen to the input of my customers. And that is exactly how I discovered the greatness of these dish scrubbies. One afternoon a man approached me. He spent a good few minutes in my booth just looking around, but ultimately he looked a bit unsatisfied. Finally he asked me if I had ever made crochet dish scrubbies. I was definitely interested to know more about them, so he relayed a tale of his youth and growing up always using his mother's handmade nylon dish scrubbies. He claimed they were the best at cleaning pots and pans he had ever come across in his life. Unfortunately, his mother had passed away a couple years prior and with her also went the beloved dish scrubbies he had collected over the years. According to his wife, who at this point was also talking highly of the scrubber they had one left that had been used for years that was on its last leg. After hearing their description of the dish scrubber I very enthusiastically accepted a challenge to replicate the dish scrubber they had longed to find again.
That next week he returned and bought over half of my stock of dish scrubbies! After that they became a HUGE hit for my booth and I could barely keep up with the demand!
Materials:
K hook (6.5mm) 
Nylon tulle (cut in half) 
Embroidery needle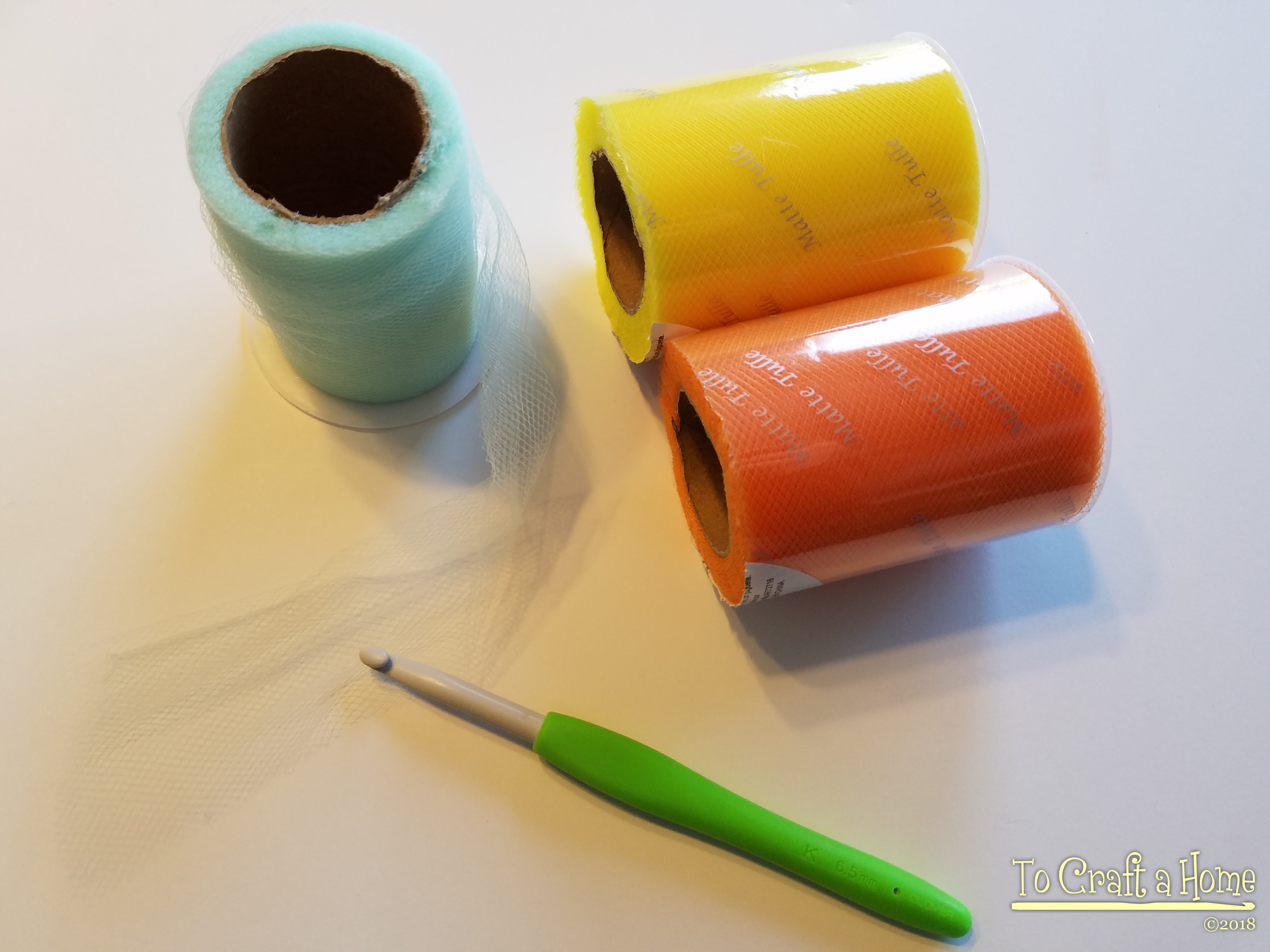 Before starting you will want to take your roll of tulle and cut it in half. You may be able to find the half-sized rolls and choose to use these out of convenience, but I found the larger rolls of tulle to be more inexpensive with a larger quantity of tulle to work with. You should be able to get about 3 dish scrubbies out of one complete roll of tulle. If you have a small amount leftover do not throw it away! You can add it to another dish scrubbie to form various colored scrubbies! Now let's start. Using your crochet hook, take the tulle just as you would any piece of yarn.  You will be using hdc.
6 hdc in a magic circle. 
Round 1: inc in each st around (12)
Round 2: *inc in 1st st, hdc in the next st*; repeat around (18)
Round 3: *inc in 1st st, hdc in the next 2 sts*; repeat around (24)
Round 4: *inc in 1st st, hdc in the next 3 sts*; repeat around (30)
Rounds 5-6: hdc in each st around (30)
Round 7: *dec the 1st 2 sts together, hdc in the next 3 sts* repeat around (24)
Round 8: *dec the 1st 2 sts together, hdc in the next 2 sts* repeat around (18)
Round 9: *dec the 1st 2 sts together, hdc in the next st* repeat around (12)
Round 10: dec around until piece closes. Fasten off and weave in the ends.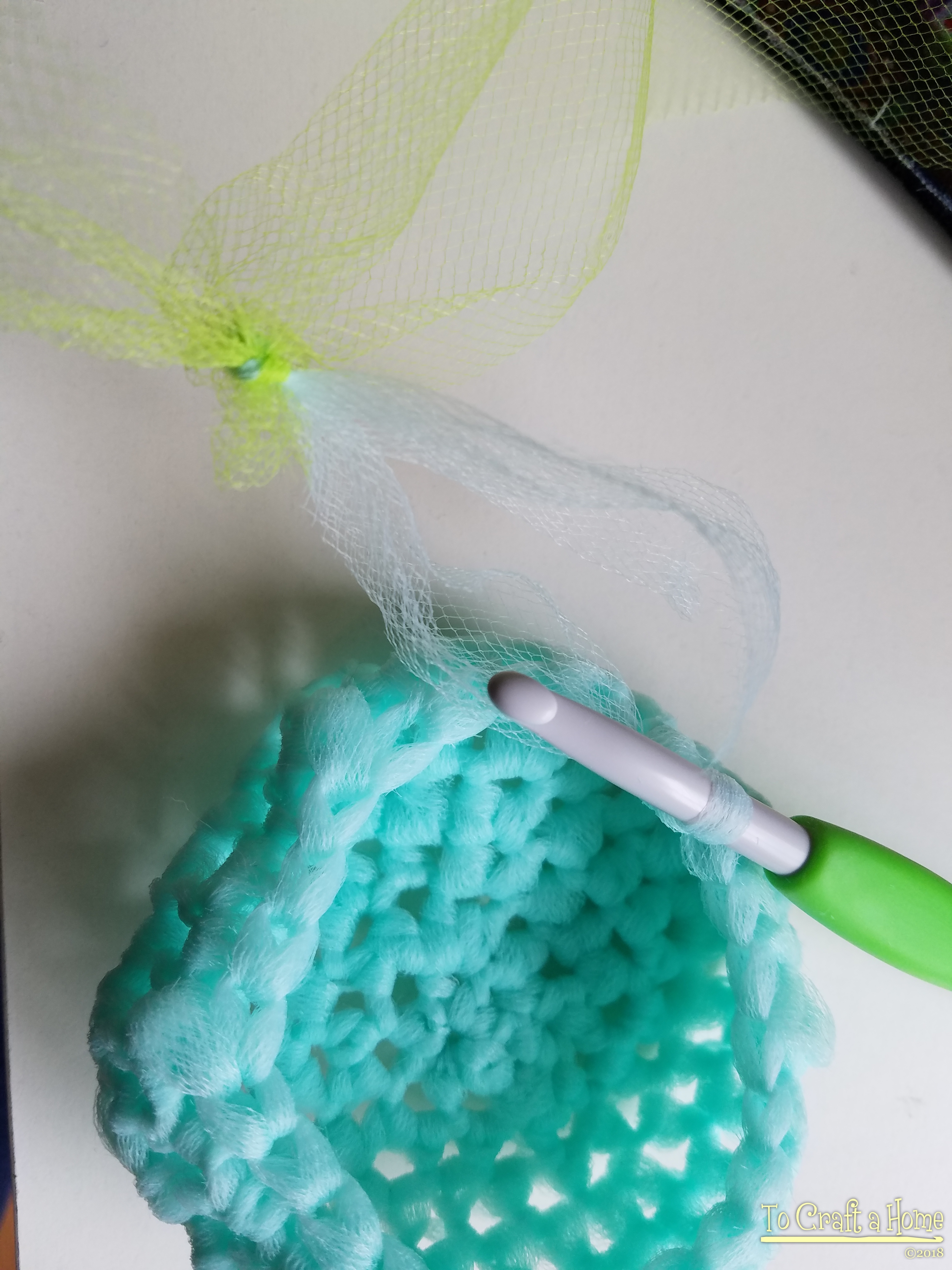 If you are wanting to make a multi-colored scrubber, it's very simple to do so. Just take another piece of the tulle and tie a double knot to the current color you are using. Don't worry about trimming the ends, as you can stuff them into the dish scrubber as you continue on.
And it's really just that simple! You can make as many of these as you want. Pass them out to your family, friends, whoever! Sell them at fairs. They make great gifts. The only downside to this is that the moment you give them away, you'll always have someone asking for more, so be sure you can keep up with the demand!
Happy crocheting!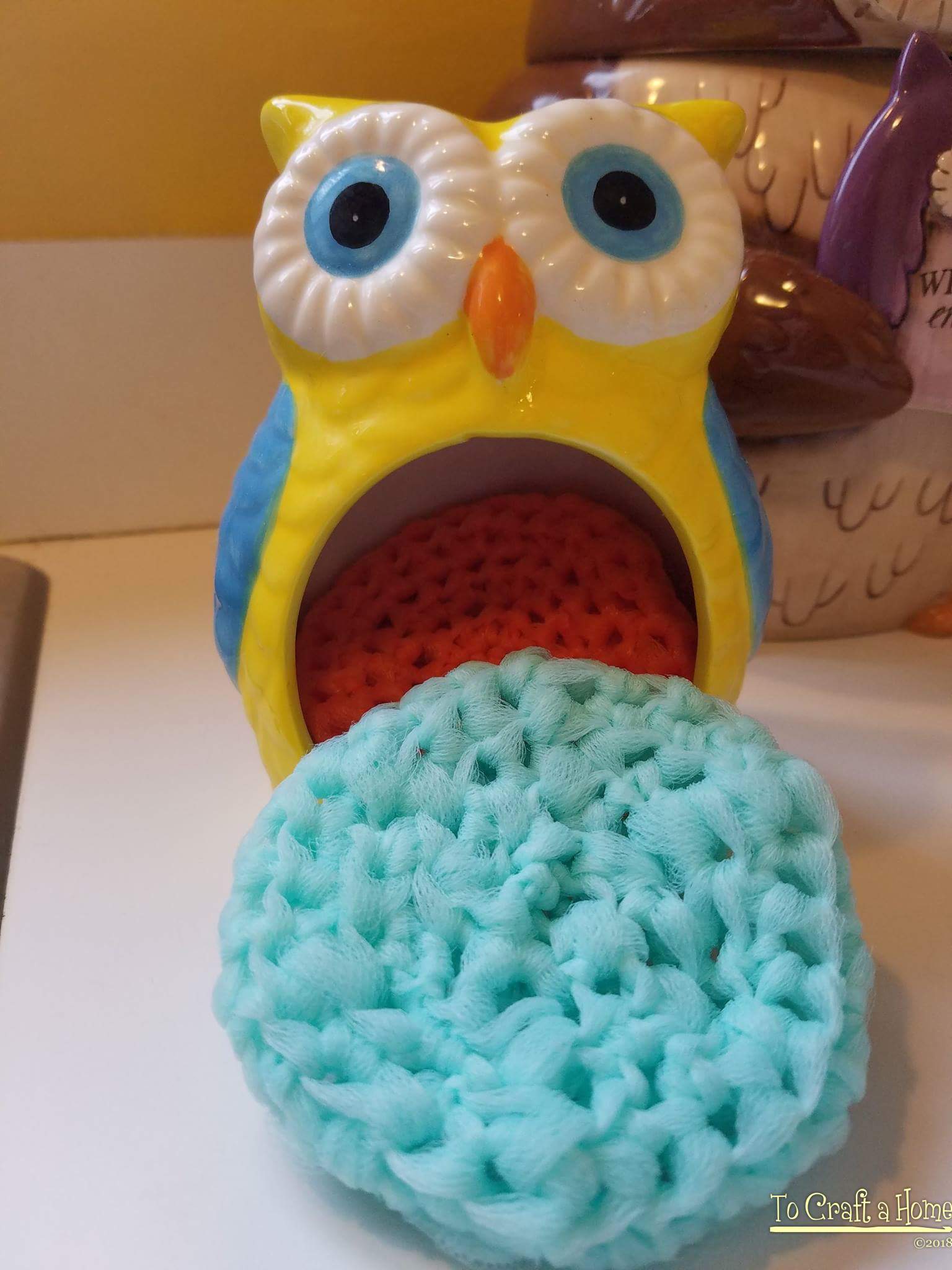 All designs & pictures are copyrighted by To Craft A Home 2018. Pattern is for personal use only and can't be resold, republished, or redistributed in any way. You may sell the finished project if you so desire, but please give credit and link to my website www.tocraftahome.com or my etsy www.tocraftahome.etsy.com