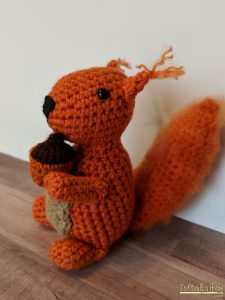 Back in the days of renting my husband and I found ourselves in an older home built in the late 1800s. It was a cozy little place with all of the cute little nooks and crannies that often times bring charm to older homes. As with many rental homes, however, came quirks as well. One of those quirks were hidden holes in our walls leading to outside, as our landlord had failed to repair portions of the house before we moved in. Much to our surprise, we quickly discovered that we were not the only tenants of the house, but rather, a wild squirrel had previously claimed ownership of the place! That squirrel was quite the character with a big attitude and seemingly large annoyance with us being his new roommates. The squirrel became so much a part of living at that house that we affectionately named him "Baxter".  Every now and then we'd hear a scurrying sound in our attic or walls. We knew it was Baxter.  Occasionally he would pop up from the outside of our house and hit our windows as if to say, "Hey! Get out! I was here first!" and always came a big startle from such occurrence! It was crazy how much this squirrel really began to test our limits. If ever I put a plant outside, he'd quickly dig it up. Every single morning while my husband left for work there would be a chatter from the trees above. My husband would look up and there Baxter would be, angrily waiting and throwing nuts at him! Sometimes he even hit him!
Despite numerous calls and complaints to our landlord, no fix ever came to keep this squirrel out of our living space. The last straw came when we arrived home and found our loyal orange tabby cat staring a hole into our kitchen cabinets. No matter what we did, he refused to leave the strange stare down he was having. Soon we figured out why. There was a crash from inside one of the cabinets and in no time it was very apparent that Baxter had found another way into our house! Luckily, we moved out a week later and gave up the house to Baxter, opting to buy and thoroughly inspect a new home instead. While at the time it was a very stressful and frustrating situation, we can now look back and it all and laugh at how ridiculous it was. Because of this outlandish tale, the inspiration of a new creation came to be. So I present to you Baxter the Squirrel.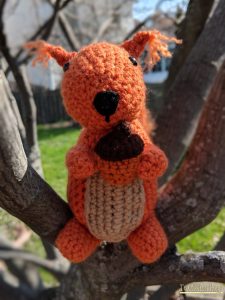 Unlike the actual Baxter, this squirrel is soft and cuddly and features a nut that he will NOT throw at your head!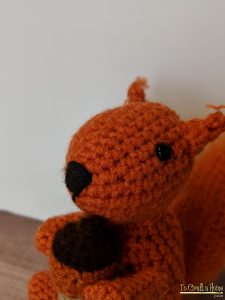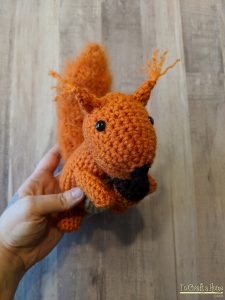 Everything about him is as friendly as can be from his handheld size to his fluffy little tail! He is super easy to work up and makes a great little companion for any squirrel or wildlife enthusiast!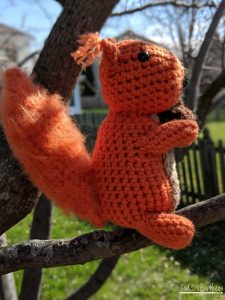 You can find Baxter's pattern for sale on my Etsy or Ravelry:
Etsy: https://www.etsy.com/listing/614364127/baxter-the-squirrel-pdf-crochet-pattern
Ravelry: https://www.ravelry.com/patterns/library/baxter-the-squirrel
All designs & pictures are copyrighted by To Craft A Home 2018. Pattern is for personal use only and can't be resold, republished, or redistributed in any way. You may sell the finished project if you so desire, but please give credit and link to my website www.tocraftahome.com or my etsy www.tocraftahome.etsy.com