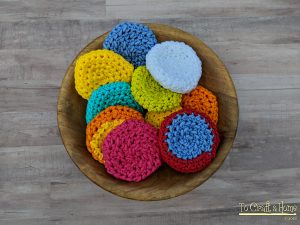 It's that time of year when craft fairs are popping up left and right. As posted in the past, I've mentioned my dish scrubbies and even offered a free pattern found here: Dish Scrubbies These dish scrubbies always go fast at any farmers market or craft fair I participate it. So many people tie memories to these scrubbies from their own past, often times citing older family members having had made them and long since past. They're always delighted to see them pop up and often times I'll find repeat customers! So this year, as craft fair season is upon us, I find myself busy working up many more dish scrubbies to sell at my booths. While the old version using tulle is fantastic and something I still highly recommend, I couldn't help but fall in love with Yarn Bee's Scrub-Ology Scrub It! yarn (found here:Yarn Bee Scrub-Ology Scrub It! ) the first time I saw it at Hobby Lobby a few weeks back. I've admittedly been avoiding the scrubbie yarns, as I feel that nylon tulle is the best texture for dish scrubbers and most are made of cotton and thinner in appearance. This yarn was way different than most you'll find, however. The moment I saw this new yarn I just had to give it a try! The texture was perfect and even better, it was made of nylon. So I rushed home with a couple of skeins and tried my hand at it. My findings were quite pleasant and so great that I decided to rework my dish scrubbie pattern entirely!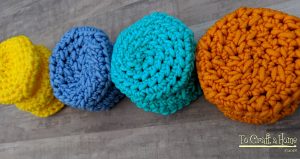 First things first, what made this scrubbie yarn seemingly better than using my old method of cut nylon tulle? Here's a few important things to note:
It's a lot easier on the hands while working up. I'm going to flat out say that. While I love the nylon tulle method, there is a bit more strain put on the hands and wrist while holding it together and crocheting.
It's easier to be able to pick up this skein and just go to work. No more cutting tulle. No more searching for pre-cut tulle in various craft stores. The Scrub It! line is already in a skein and ready to go!
The finished product, in my opinion, is a lot sturdier and while I do believe both will hold out just as long, I feel that the new updated version using the Scrub It! line of yarns will feel a lot better in hands while cleaning dishes. It is a bit larger than the nylon tulle scrubbies and feels fuller once completed.
They work up faster! You end up using less stitches and the yarn goes a lot further than the tulle. Considering these work up to be larger too, that's a win in my book!With all of that said, I still feel that there is absolutely nothing wrong with using my prior method and it's especially great if you have tulle on hand and no access to this particular line of yarn. But if you're able to get your hands on some of the Yarn Bee Scrub-O-Logy Scrub It! yarn, definitely give it a try! Now without further ado, my new scrubbie pattern to work up these fantastic dish scrubbies!
Materials:
6.5mm crochet hook
Nylon scrubbie yarn (Yarn Bee Scrub-Ology Scrub it!)
Embroidery Needle
6 hdc in a magic circle
Round 1: inc in each st around (12)
Round 2: *hdc in 1st st, inc in the next st*; repeat around (18)
Round 3: *hdc in 1st 2 sts, inc in the next st;* repeat around (24)
Round 4: *hdc in 1st 3 sts, inc in the next st*; repeat around (30)
Round 5: *hdc in 1st 3 sts, dec next 2 sts together*; repeat around (24)
Round 6: *hdc in 1st 2 sts, dec next 2 sts together*; repeat around (18)
Round 7: *hdc in 1st st, dec next 2 sts together*; repeat around (12)
Round 8: dec around (6)
Round 9: continue to dec until piece closes
Fasten off and weave in ends.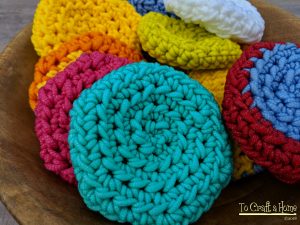 And now make dozens to share with your friends and family! There are so many fun colors that these are very visually pleasing to the eye. Nobody can't resist them! Could it even make dish washing more fun? Okay, maybe we shouldn't get too carried away on that… I do love that this is a tradition that can be carried on though. The perfect handmade gift or just something useful to keep for your own home! Best yet? They're entirely reusable. Once they're dirty just throw them in the dishwasher or washer. You can even sanitize them by boiling them with a little bit of lemon juice thrown in the pot! It's that simple!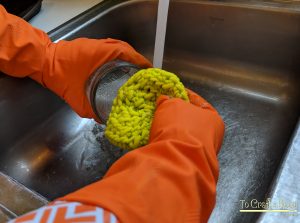 Happy scrubbing!
All designs & pictures are copyrighted by To Craft A Home 2018. Pattern is for personal use only and can't be resold, republished, or redistributed in any way. You may sell the finished project if you so desire, but please give credit and link to my website www.tocraftahome.com or my etsy www.tocraftahome.etsy.com
Find more of my patterns on Ravelry: https://www.ravelry.com/people/ToCraftAHome