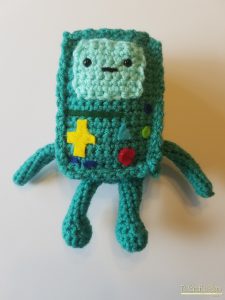 One of my favorite things about working the farmers market each summer are the many people I get to interact with and meet. People of all ages pop into my booth, most with something to add to my day. Many times there are compliments over my work. Other times there is kind critique, much that I take in thoughtfully to improve designs, set up, etc. My favorites though are always the ones who come in and decide to ask for a custom request. I absolutely love custom requests. They always tell so much about a person! What their interests are, why they are gifting a certain item to another close friend… That one little inside joke you're let in on. The gift that says more about their love language or that little plushie that acts as a special comfort tool. All custom requests are fun for me. I have yet to find one that hasn't inspired me in one way or another.
One day last summer a teenage boy nervously approached my booth asking me to make this Adventure Time BMO doll. He was so shy. His body language seemingly shouted, "Will she think I'm weird asking for this doll???" I didn't. Everybody has their own interests and I knew some of mine were a lot crazier than that of an Adventure Time fan! Ha! The biggest thing understood though was how it felt to be a fan of something, and wanting something to deeply reflect on said interest.
Naturally I was enthusiastic to take on the challenge. I knew BMO wasn't going to be the easiest to make and would require a lot of pieces, but I was determined to make it work. I really wanted to make a fan of the show happy, so I got to work. In less than a week a pattern was written out and BMO was finished. The teenage boy met me at my booth bright and early that weekend for his BMO doll and he was no longer nervous but elated with joy over my creation. His grin could be seen from miles away! He kept in touch with me after that and enthusiastically rattled off multiple other fan favorites I could create in the future. Anytime I can bring a nervous kid out of his shell is such an awesome feeling! The best part of crocheting is giving away the creation and seeing the happiness it brings.
And so here today I offer the totally free Adventure Time BMO pattern so that it can be passed on and shared with other fans of the show!