With a baby on the way and multiple friends also pregnant alongside me, as a crocheter, I've got a lot of work ahead of me! Baby blankets are always a common request and truthfully, one I love to give as gifts at showers. Surprisingly to some though, blankets aren't my strong suit, and I find it very hard to stay motivated and focused on each one. When it comes to making a blanket, I find the simpler, the better.
I love this pattern because it's only really two stitches that you need to remember. No change each row, no huge pattern to memorize or take with you, no color changes, etc. Just two simple stitches and a couple of skeins of yarn! This is the perfect blanket to make while watching your favorite show or movie, or just sitting to pass the time.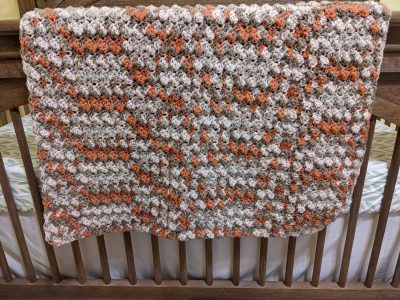 This blanket is not only super easy but also affordable! No need to use any fancy or expensive yarn! I found that the common Red Heart brand worked great, and after a wash it will be as soft as ever! Want it a little softer? Use Red Heart's With Love brand (that's what I did). But any worsted weight yarn will do just fine. My blanket came out to just under 700 yards of yarn for the basic baby blanket measuring 32 inches in width. With the Red Heart's With Love brand (color Mojave) I only used three skeins to complete this blanket and found it to be a decent size for a baby, but the beauty part of this simple pattern is that if you find it not to be long enough for your needs, just throw in another skein and crochet to your desired length! If you need it to be a little bit longer, just make sure your initial chain amount is of a multiple of 3. Outside of that, there's no real rules with this pattern!
Materials:
6.00mm crochet hook
Worsted weight yarn (I used Redheart's With Love brand Mojave, 3 skeins for a total of 669 yards)
Embroidery needleChain 111 stitches.

Step 1: Starting in the third chain from the hook you will place 2dc. Skip the next two chains and will place (sc, dc, dc). You will repeat the (skip next 2 ch sts, sc, dc, dc into next st) pattern until you reach the end of your ch sts. In the last ch space you will place a sc. Ch 2 and turn.

Step 2: In the 1st st you will place 2dc. *Skip 1st 2 dc sts, place (sc, dc, dc) into following sc st* repeat this pattern all the way down your row placing a sc in the last st (the top of the ch 2 that starts each row). Ch 2, turn.

Step 3: Continue to repeat Step 2 until you reach the desired length of your blanket!

That's it! Easy peasy! And such a great texture. This blanket can easily be an all season blanket for your new bundle of joy.

Best of all, it works up fast! You really get the feel for where the stitches need to go and in no time you have a lap full of blanket and a quick gift for a friend.

Happy crocheting!

All designs & pictures are copyrighted by To Craft A Home 2021. Pattern is for personal use only and can't be resold, republished, or redistributed in any way. You may sell the finished project if you so desire, but please give credit and link to my website or my Etsy

Find more of my patterns on Ravelry