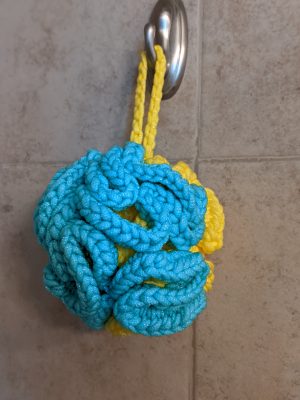 One of the things I love the most about crocheting is the fact that it goes beyond cute hats and doilies, but also can be a very useful skill for the home! From toy making for the kiddos to assorted clothing pieces, crochet is valuable in so many places! And I absolutely love making useful household items! Dish scrubbies are always a big hit, or even dish and wash cloths. So simple and always a necessity! One thing I have always struggled with, however, is finding the exact right way to make a bath pouf. In the past I've tried cotton and while it works up nicely and has a wonderfully soft texture, I have found that crocheted cotton bath poufs just don't hold up well over time and very quickly absorb a mildew scent. I've been on the search for the perfect way to make bath poufs for awhile now and am happy to report that Hobby Lobby's Scrub-Ology yarn fits the bill perfectly! It's absorbent, great for scrubbing, and dries fast! No mildew smell leftover at all! What's even better? These bath poufs work up super fast! So if you're in the market for a nice bath pouf, give this one a try and let me know what you think!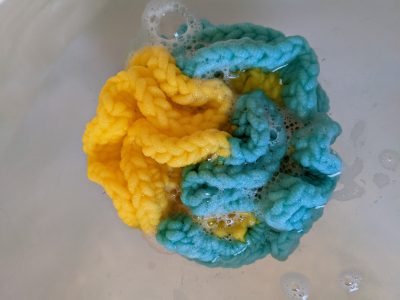 Materials:
6.5mm crochet hook
Yarn Bee Scrub-Ology Scrub It Yarn
Embroidery Needle
To begin you will place 20sc in a magic circle. Sl st to 1st sc and pull to close up the magic circle. Once the magic circle is closed you will then ch 25 and sl st back into the same st you started your chain at. This will be your hanging string for the finished pouf. If you prefer it to be longer, feel free to add a couple more chains.
You will now work in rounds.
Round 1: 3dc in each st around. Sl st into 1st dc of the round to finish the round. (60)
Round 2: Ch 2. 3dc in each st around. Sl st into top of ch 2.  (360)
Round 3: Ch 2. 3hdc in each st around. Sl st and fasten off. (1080)
That's all there is to it! This pouf is super simple and works up incredibly fast! You can also use it with scraps of the Scrub-Ology yarn if you're like me and also make dish scrubbies with it (See my pattern for those: http://tocraftahome.com/2018/09/dish-scrubbie-new-version/ ). Various scrap colors crocheted together in this piece can make some really cool bath pouf designs!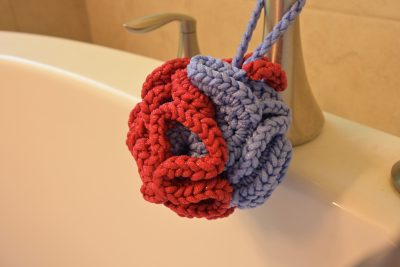 Happy crocheting!
All designs & pictures are copyrighted by To Craft A Home 2021. Pattern is for personal use only and can't be resold, republished, or redistributed in any way. You may sell the finished project if you so desire, but please give credit and link to my website www.tocraftahome.com or my etsy www.tocraftahome.etsy.com
Find more of my patterns on Ravelry: https://www.ravelry.com/people/ToCraftAHome